Get Support
If you or someone you care about has been diagnosed with cancer, we're here to help.
Get Involved
Funding & Sponsoring Cancer Services for the People of West Clare.
News & Events
Read our latest news and look up sponsor events supporting the West Clare Cancer Centre.
West Clare Cancer Centre
The West Clare Cancer Centre is used as an office for the Committee and as a drop-in, non-referral service. No appointment is necessary to visit the West Clare Cancer Centre and it is here that people can access the services we have available. Professional counselling, including bereavement counselling, and complementary therapies can be availed of by all of the Centre's clients. The support and assistance that the Centre has given to people over the years and its continued role in providing vital services to ever-increasing numbers of people and their families ensures that Bernie's legacy will live on.
To date, over three million euro has been raised for the provision of cancer care services in West Clare. Not a man to rest on his laurels, committee chairman Willie McGrath remains steadfast in his quest to ensure that the people of West Clare can continue to access cancer care services in as expeditious a manner as possible.
The provision and expansion of cancer care services for the people of West Clare truly is the 'beating heart' of the West Clare Mini Marathon charity, and it is when communities are united that projects come to fruition and dreams are realised.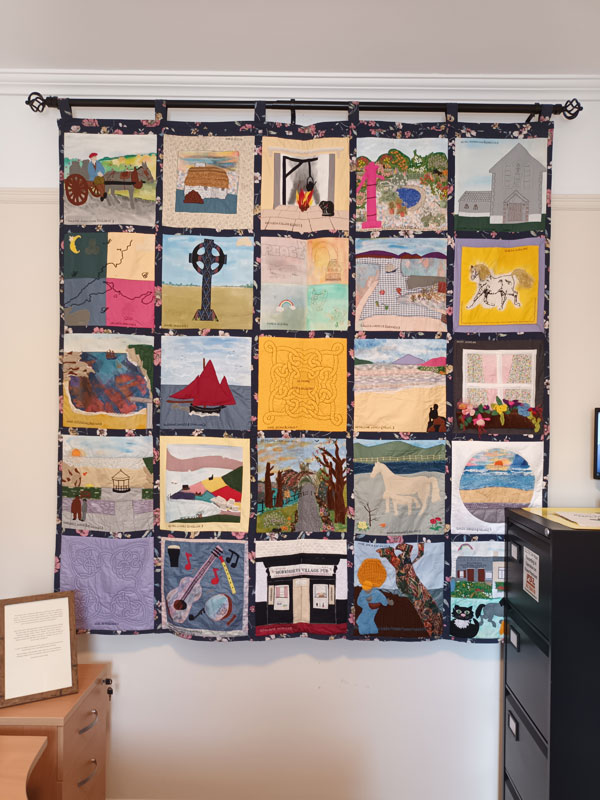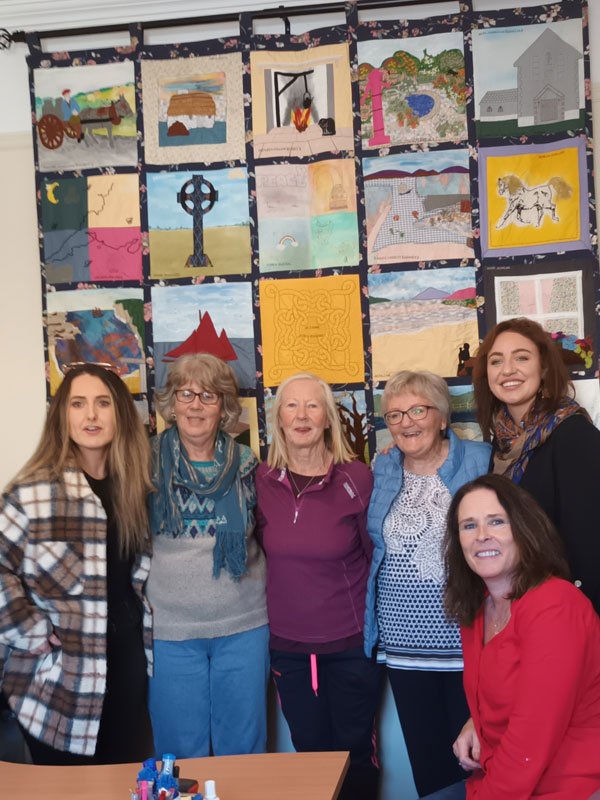 L to R: Sharon Maguire, Anne Scanlon, Geraldine Troy, Berni Anslow, Lauren McMahon, Rosemarie Keane
The West Clare Cancer Centre is delighted to have been gifted this beautiful piece of history. It is now up on our wall here in the centre in Kilkee. Many thanks to An Fáinne Women's Group. Please call into the centre at any time to see this amazing piece of work by women of our community. We look forward to seeing you.
The women who crafted this Quilt were part of An Fáinne Women's group. This group of women came together in 1992 to support each other and the women of the Loophead Peninsula. They were original in their thinking and participated in many innovative initiatives which were of benefit to women and their communities.
One of the many exciting projects which they undertook was making this quilt under the skilful and creative guidance of Anne Berry of Rainbow Cottage Crafts in Ross, Kilbaha. Each of the women designed and crafted a square of the quilt. This was done during the winter months of 1995/96 in Anne Berry's cottage and also in An Teach Ceoil, Carrigaholt.
It was a privilege to be part of this project and to have known and worked with such a wonderful group of women.
We remember with fondness Mary McGuire, Anne McMahon, Kathleen Nealon and Val Considine who are no longer with us.
Suaimhneas síoraí dóibh.